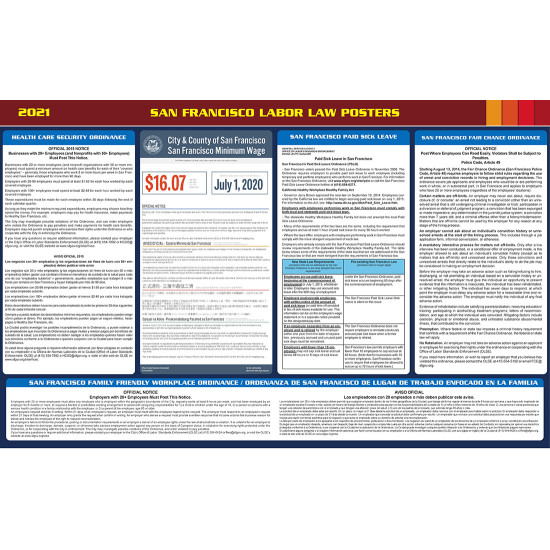 San Francisco All in One Labor Law Poster
Price in reward points:
100
San Francisco All In One Labor Law Poster with all federal and state regulations.
Poster includes the following laws:

San Francisco HSCO
San Francisco Minimum Wage
San Francisco Paid Sick Leave
Health Care Security
Fair Chance
San Francisco All In One labor law workplace poster includes all notices required to be displayed in the workplace. Compliance Assistance offers durable, convenient and quality compliance posters with amazing customer service. In order for your business to be in labor law compliance, both federal and state laws must be posted in a conspicuous location at every work site. Purchase the 2021 San Francisco Labor Law poster with our Compliance Protection Plan and frequent labor law changes. Our Protection plan provides you with year-round coverage of labor law changes, giving you less reason to worry about being up-to-date.
Dimensions
Dimensions
24" x 15"