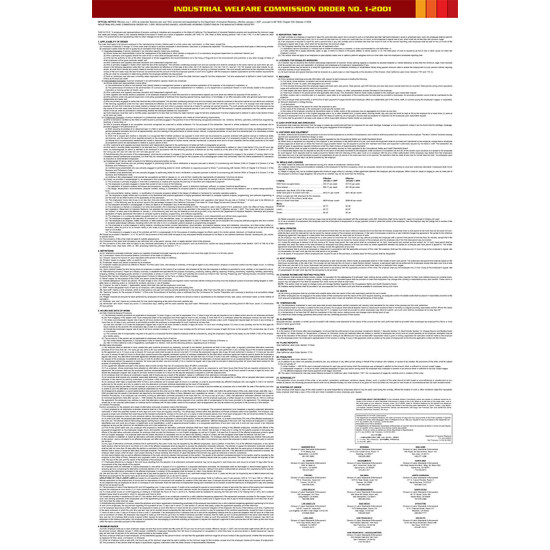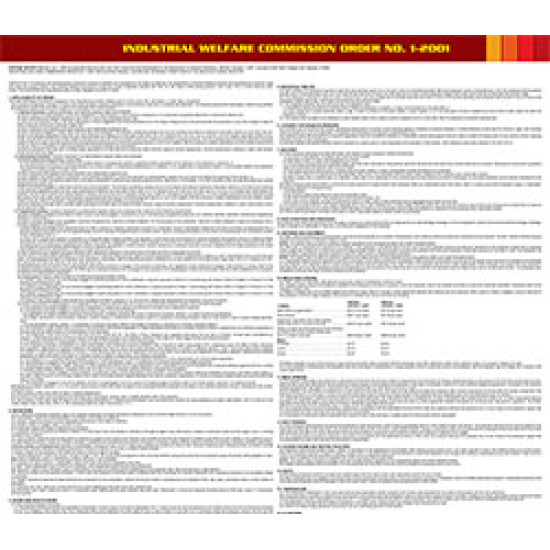 California Industry Welfare Commission (IWC) #1 Manufacturing Industry Poster
California Industry Welfare Commission (IWC) #1 Manufacturing Industry Poster. Add the Constant Coverage Plan and stay in poster compliance for 2014, 2015, and 2016 by receiving updates during the coverage period.
Poster Dimensions: 24" x 36"
The Industrial Welfare Commission Order No. 1-2001 regulates wages, hours, and working conditions in the Manufacturing Industry. This industry labor law poster includes all IWC #1 laws required to be poster in the workplace. "Manufacturing Industry" means any industry, business, or establishment operated for the purpose of preparing, producing, making, altering, repairing, finishing, processing, inspecting, handling, assembling, wrapping, bottling, or packaging goods, articles, or commodities, in whole or in part; EXCEPT when such activities are covered by Order in the : Canning, Preserving, and Freezing Industry; Industries Handling Products After Harvest; Industries Preparing Agricultural Products for Market, on the Farm; or Motion Picture Industry.
The Industrial Welfare Commission (IWC) has created a number of orders, known as IWC Postings or IWC Wage Orders, that are broken into 17 different sections, one of which is mandatory to be displayed in the workplace depending on your industry. he primary purpose of this notice is to provide information for employees working within California of state laws in regards to wages, overtime payment, disabled workers' benefits, minimum wage, record keeping, uniforms and equipment, meals, lodging, rest periods, seats, change rooms, seats, temperature, elevators and penalties.
Dimensions
Dimensions
24" x 36"